HSE Management System
RIJ is committed to being an industry leader in health, safety and environmental practices.  The strength of a company's commitment to health, safety and the environment is determined by the conviction of its management and the execution of its QHSE system by all of its employees. We are determined to be the leader in QHSE performance in the industry. This commitment is upheld through an integrated management system to focus our business activities and continually improve our health, safety and environmental performance.  It applies to the complete life cycle of our business – from an acquisition to design and construction, to operations and sale to retirement.
Two aspects which make up the system are the framework and the continual improvement cycle. 
The system is used to capture, organize and document RIJ's commitment and expectations when it comes to managing our health, safety and environmental responsibilities.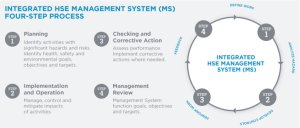 Continual Improvement Cycle
This is comprised of 11 elements used in addition to the framework:
Element 1: Health, Safety, and Environment (HSE) Policy –To demonstrate a high level of commitment from leadership and all personnel for the success of the HSE Management System; and, to clearly define expectations for all employees' HSE performance.
Element 2: Risk and Regulatory Assessment – To anticipate, identify and evaluate HSE risks prioritizing HSE activities, to mitigate HSE exposures, and to provide direction toward continuous improvement in a cost effective manner.
Element 3: Objectives and Targets – To develop and document HSE objectives and targets in order to ensure continual improvement.
Element 4: Structure and Responsibility – To define and communicate clear lines of accountability throughout the Company, allowing HSE Management System requirements to be established, implemented, maintained and continuously improved upon.
Element 5: Operational Controls – To provide a consistent and agreed upon approach to managing the Company's business activities, which may have the potential to impact employee health, safety, or the environment.
Element 6: Contractor Management – To anticipate, prevent, manage and mitigate HSE risks associated with the use of contracted services and supplies.
Element 7: Emergency Preparedness and Response – To limit damage to people, property, the environment and company operations in the event of any emergency situation.
Element 8: Training and Awareness – To provide HSE training and awareness to proactively manage HSE risks and conditions.
Element 9: Documents and Records – To manage all associated HSE records and documents in such a manner that this information is available to employees and external agencies, if and when it is required.
Element 10: Communication and Reporting – To maintain and improve leadership and employee and other stakeholders' awareness and understanding of health, safety and environmental objectives and performance.
Element 11: Performance, Audit and Review – To identify and implement corrective and preventative measures to continually improving the Company's HSE performance, as reflected in the HSE Commitment.